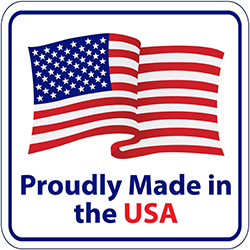 10" x 2-1/2" Mold-On Rubber Centered Hub 1" Bearing - 800 lbs. Cap.
Est. Ship Date: Monday, December 11th
Couldn't load pickup availability
Trusted By
10" x 2-1/2" Mold-On Rubber Centered Hub 1" Bearing
The mold-on rubber wheel is a lightweight alternative to the traditional cast iron core, providing the same load capacity with a cushioned tread and an attractive look.
Used on vending machine trucks (Dutro Brute Series) & Drum Trucks (3000, 3002, 3004)
Tread: Rubber, Vulcanized To Core

Core: Aluminum Core
Bearing: Ball Bearing 
Capacity: 800 Lbs. 
Color: Black and Silver
Durometer: Shore A 80 (+/-5)
Temperature Range: -40° F to 160° F
| | |
| --- | --- |
| Load Capacity  | 800 Lbs.  |
| Wheel Diameter  | 10"  |
| Tread Width  | 2-1/2"  |
| Tread Type  | Rubber, Vulcanized To Core  |
| Core Type  | Polyolefin Core  |
| Axle / Bore Diameter  | 1"  |
| Hub Length  | 2-3/4"  |
| Bearing Type  | Ball Bearing  |
| Color  | Black and Grey |
| Durometer  | Shore A 80 (+/-5) |
| Temperature Range  | -40° F to 160° F |
| Hub Alignment  | Centered Hub  |
Return Policy
You can return unused or defective products up to 30 days from the date of order.  Some product returns may be subject to restocking fees.  Proof of Purchase will be required if we cannot verify your order information.  Unless the product is defective or damaged in transit, the customer is responsible for return shipment costs.
Defective or Damaged Products
All shipments received must be immediately inspected for damage.  If your order shipped on a freight carrier, any damage needs to be noted on the Freight Receipt before signing for the delivery.  An exchange or refund will be provided at no additional cost.  If damage is due to misuse or regular wear of the product, the return will be denied.
Order Cancellation
If you need to cancel your order for any reason, please contact us immediately.  If the order is canceled prior to shipping, you will be refunded in full.  Certain products that are manufactured to order cannot be canceled after the manufacturing process has started.