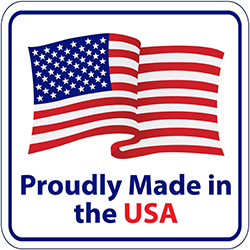 ASTM K4 Traffic Impact Crash Rated Bollard - 15,000 lbs at 30 MPH
Est. Ship Date: Monday, December 4th
Crash Rated 15,000 lbs at 30 MPH
39.5" Above Ground Height
Bi-Directional Stopping Capability
Easy Installation
Couldn't load pickup availability
Trusted By
ASTM K4 Traffic Impact Bollards - Crash Rated
Ideal Shield is now offering the ASTM K4 Crash Rated Bollard which has the ability to stop 15,000 lb. vehicles at 30 mph within one-meter penetration.
Tested and certified with ASTM F2656-07 M30 P1 rating, these security bollard barriers have been approved by the Department of Defense (DoD) and are now listed on the Anti-Ram Vehicle Barrier List. Designed for bi-directional stopping capability, these safety crash bollards are perfect for storefronts, pedestrian-friendly areas, and much more.
The simple Set & Pour installation will also make life easier for everyone. Simply set a single prefabricated bollard in the excavation and pour in the concrete (no rebar in the foundation). Don't worry about tying, bolting, welding, assembly, or specialty subgrade, as it is not required. Excavation 30" wide by 36" deep with 3000 psi concrete. The bollards are one single unit with a lifting pin and are also field adjustable, as it is easy to install with turns and across grade elevation changes using a standard bollard.
The security bollards are cost-effective as the posts have an unrestricted spacing limit while maintaining ASTM M30 P1 certification and are also available in a removable option for temporary access areas.
Stops 15,000lb. vehicle at 30 MPH
Available in 8" Pipe Option per request
Less than 1 meter of vehicle penetration (P1)
Single Prefabricated Bollard Delivered
Quick Installation at Significantly Reduced Cost
Square Cut, Auger, or Trench for Installation
No Rebar Required in Foundation
Simply Excavate, Set Bollard, and Pour Concrete
Any Bollard Spacing is Certified
Bollard Array Easily Follows Turns & Grade Changes
Bi-Directional Stopping Capability
Removable Bollard Model Available
Available as Bollard Sign System for parking lot applications
Variety of Bollard Covers, Finishes, and Sign Systems
Steel Inserts Available for Better Fitting Bollard Covers
Return Policy
You can return unused or defective products up to 30 days from the date of order. Some product returns may be subject to restocking fees. Proof of Purchase will be required if we cannot verify your order information. Unless the product is defective or damaged in transit, the customer is responsible for return shipment costs.
Defective or Damaged Products
All shipments received must be immediately inspected for damage. If your order shipped on a freight carrier, any damage needs to be noted on the Freight Receipt before signing for the delivery. An exchange or refund will be provided at no additional cost. If damage is due to misuse or regular wear of the product, the return will be denied.
Order Cancellation
If you need to cancel your order for any reason, please contact us immediately. If the order is canceled prior to shipping, you will be refunded in full. Certain products that are manufactured to order cannot be canceled after the manufacturing process has started.