Spec Sheet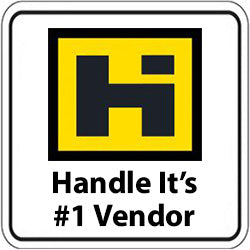 Build-A-Rail Modular Guard Rail Kit
Est. Ship Date: Monday, December 11th
Couldn't load pickup availability
Trusted By
Handle-It® Build-A-Rail Modular Guard Rail Kit
This heavy-duty modular warehouse rail system is made to assemble and disassemble without hassle. Choose from 4', 6', and 8' lengths, and connect rails of the same length by stacking them on top of each other up to three rails high. 
Barriers are heavy duty and rated to withstand impacts up to 10,000 lbs. at 4 mph. 4" x 4" square tubing is constructed of 5/32" thick steel and 10" x 10" steel base plate 5/8" thick.
This product has a 2-year warranty on workmanship and material.
Each kit includes:
2x Caps

Rails (Quantity varies by selection)
If adding connectors, you will receive the same number of connectors as rails in the kit.  When chaining rails together, the first rail doesn't need connectors, while the rest of them will.

Anchor Size: 3/4" x 4.25" wedge anchor
Base Unit: Modular Base Unit
*Anchors and Base Units sold separately
| | |
| --- | --- |
| Material | 5/32" thick square steel tubing and 5/8" thick base plate |
| Height | 32" first level, 64" second level, 96" third level |
| Finish | High visibility yellow powder coat |
| Brand | Handle-IT |
Return Policy
You can return unused or defective products up to 30 days from the date of order.  Some product returns may be subject to restocking fees.  Proof of Purchase will be required if we cannot verify your order information.  Unless the product is defective or damaged in transit, the customer is responsible for return shipment costs.
Defective or Damaged Products
All shipments received must be immediately inspected for damage.  If your order shipped on a freight carrier, any damage needs to be noted on the Freight Receipt before signing for the delivery.  An exchange or refund will be provided at no additional cost.  If damage is due to misuse or regular wear of the product, the return will be denied.
Order Cancellation
If you need to cancel your order for any reason, please contact us immediately.  If the order is canceled prior to shipping, you will be refunded in full.  Certain products that are manufactured to order cannot be canceled after the manufacturing process has started.