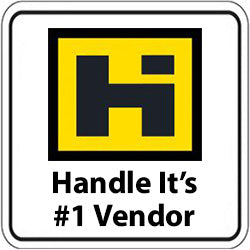 Model 800 Semi-Automatic Pallet Stretch Wrap Machine
Est. Ship Date: Friday, December 8th
Item requires special shipping, additional freight charges will apply.
For Stretch Wrap machines with scales please, allow for 1 additional week for shipping.
Couldn't load pickup availability
Trusted By
Handle-It® Model 800 Semi-Automatic Pallet Stretch Wrapper
Item requires special shipping, additional freight charges will apply.
For Stretch Wrap machines with scales please, allow for 1 additional week for shipping.
The Model 800 is the ideal mid-level pallet stretch wrap turn table, rated for up to 100 pallets per day. This turntable pallet wrapper is ideal for 100 maximum average loads per day.
Standard features on the model 800 include 4400lb capacity, 86" max wrap height, user-friendly control panel, electronic stretch film tension, and many other elements cleverly designed to make this unit a must-have in any facility looking to improve and streamline their packaging operations.
The integrated control board allows you to customize up to 18 wrap programs. Easily control speed, film tension, and wrap counts. Error code diagnosis makes troubleshooting fast and simple. It has all the features needed to improve your wrapping process. The film carriage has electromagnetic tension for precise film tension control. The photo-eye detects the pallet and allows the turn table stretch wrapper machine to wrap the whole pallet to secure your product while performing a wrap cycle. Maximum wrap heights of 86" or 98". The film carriage is driven by rack and pinion for added reliability. Regular 110v power plug.
100 maximum average loads per day. If your average loads per day are over 20, we suggest our 850 PS machine due to the film savings the pre-stretch carriage on the 850PS provides.
93" maximum load size diagonal
86" maximum load wrap height -98" extended height available.
4400lb maximum load weight capacity
Pallet wrapping turntable speed 3-13 RPM
59" Turntable size
3/4 HP TEFC Turntable Drive Motor
110v standard plug
Machine size 93"L x 59" W x 88" H
3 Year Warranty
Interested in this machine - but want to save up to 60% on film? Watch the video below comparing the 800 machine to our 850 PS machine.
| | |
| --- | --- |
| Model No. | SWM-SA-0800 |
| Wrap Height | 86" |
| Turntable Diameter | 59" |
| Max Pallet Size | 48" x 80" (93" Diagonal) |
| Turntable Height | 3" |
| Load Capacity | 4400 lbs |
| Mechanical Tension Stretch | 150% |
| Power Supply | 110v, 10 amp |
| Total Machine Footprint | 93" long x 60" wide |
| Machine Weight | 600 lbs |
| Turntable Speed | 3-13rpm |
| Programmable Modes | 18 |
| Film Type | 20" machine film with 3" core, 70 + gauge |
Return Policy
You can return unused or defective products up to 30 days from the date of order.  Some product returns may be subject to restocking fees.  Proof of Purchase will be required if we cannot verify your order information.  Unless the product is defective or damaged in transit, the customer is responsible for return shipment costs.
Defective or Damaged Products
All shipments received must be immediately inspected for damage.  If your order shipped on a freight carrier, any damage needs to be noted on the Freight Receipt before signing for the delivery.  An exchange or refund will be provided at no additional cost.  If damage is due to misuse or regular wear of the product, the return will be denied.
Order Cancellation
If you need to cancel your order for any reason, please contact us immediately.  If the order is canceled prior to shipping, you will be refunded in full.  Certain products that are manufactured to order cannot be canceled after the manufacturing process has started.