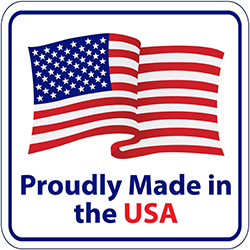 Polyethylene Corrosives/Acid Safety Cabinet
Est. Ship Date: Friday, December 15th
Couldn't load pickup availability
Trusted By
Justrite Polyethylene Corrosives/Acid Safety Cabinet

Safely store strong acids such as hydrochloric, sulfuric, or nitric acid; or bases such as sodium, potassium, or calcium hydroxide in this durable, HDPE (high-density polyethylene) cabinet. With no metal parts to corrode, this cabinet holds up to 36, 2.5-liter (90L) bottles, and offers chemical resistance against spills or potentially damaging vapors when storing acids or bases. The shelf adjusts on 3-inch (76-mm) increments, and has a load capacity of 125 lbs (57 kgs); choose from three positions to optimize container storage. A removable yet sturdy sump cover, which also serves as a bottom shelf, conceals the fully integrated, leakproof sump with an 8.5-gal (32-L) capacity. Recessed channels in shelf and base help direct spills to the back of the cabinet and down into the sump. Three application-specific labels identify contents to safely store and segregate incompatible chemicals - ACID, BASE, and CORROSIVE. Doors open nearly 180 degrees for easy access, engage firmly with the body when closed, and accept a padlock (not included) for added security.
Versatile in any environment, use the cabinet for stand-alone storage and take advantage of the grooved top work surface. The recessed toe-kick allows the user to stand closer to the counter for improved ergonomics. Easily expand capacity without taking up additional floor space by stacking two cabinets - top cabinet offers convenient eye-level access to contents. Four pre-formed vent locations at rear provide a guide for an aftermarket vent kit (not included) in the event the application requires a pressurized vapor removal system.
Research environments using many different types of chemicals have special storage requirements. Whether using acids, bases, or solvents, it is critical that incompatible liquids are segregated to avoid disastrous explosions or fires. The SDS (Safety Data Sheet) should be reviewed to determine chemical characteristics and recommended storage practices.
Product Summary:
Store acids or bases with confidence
No metal parts - never worry about corrosion
Versatile in any environment
| | |
| --- | --- |
| Adjustable Shelves | 1 |
| Capacity | 36 x 2-1/2 Liter Bottles |
| Dimensions, Exterior | 36" W x 35" H x 25" D |
| Door Type | Manual |
| Material | Polyethylene |
| Model No. | 24180 |
| Doors | 2 |
Return Policy
You can return unused or defective products up to 30 days from the date of order.  Some product returns may be subject to restocking fees.  Proof of Purchase will be required if we cannot verify your order information.  Unless the product is defective or damaged in transit, the customer is responsible for return shipment costs.
Defective or Damaged Products
All shipments received must be immediately inspected for damage.  If your order shipped on a freight carrier, any damage needs to be noted on the Freight Receipt before signing for the delivery.  An exchange or refund will be provided at no additional cost.  If damage is due to misuse or regular wear of the product, the return will be denied.
Order Cancellation
If you need to cancel your order for any reason, please contact us immediately.  If the order is canceled prior to shipping, you will be refunded in full.  Certain products that are manufactured to order cannot be canceled after the manufacturing process has started.