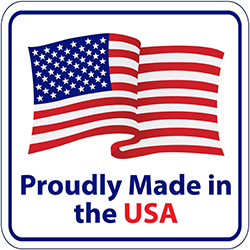 Adjustable Door Bars
Est. Ship Date: Friday, December 22nd
Couldn't load pickup availability
Trusted By
AutoTwirler® Adjustable Door Bars
*Shown above in blue powder coat
We recommend that you support the door openings while on a rotisserie by using our Adjustable Door Bars. These are absolutely critical for convertibles and when you're doing rocker repair, but also a good idea for all bodies.
They have left and right-hand threads on them. Universal mounting plates and a universal joint are on both ends.
Adjust them out, bolt them on, and then adjust the center pipe like a big turnbuckle to maintain the opening dimensions for your door. We recommend bolting on the hinge and the striker, but it can also be bolted to the inner panels or other structural member.
When you get done, take the car off the rotisserie, unbolt the door bars and you're good to go. No clean-up.
They come in 3 sizes depending on your vehicle.
Long Door Bars: Long door bars adjust from 45" to 62". Recommended for most unibodies. 
Medium Door Bars: Medium door bars adjust from 36" to 53". Preferred for 55-56 Chevys.
Short Door Bars: Short door bars adjust from 27" to 44". Good for 55-57 Thunderbirds and 
*1 Year factory warranty.
| | |
| --- | --- |
| Model No. | AT-DB-SHORT |
| Brand | AutoTwirler |
Return Policy
You can return unused or defective products up to 30 days from the date of order.  Some product returns may be subject to restocking fees.  Proof of Purchase will be required if we cannot verify your order information.  Unless the product is defective or damaged in transit, the customer is responsible for return shipment costs.
Defective or Damaged Products
All shipments received must be immediately inspected for damage.  If your order shipped on a freight carrier, any damage needs to be noted on the Freight Receipt before signing for the delivery.  An exchange or refund will be provided at no additional cost.  If damage is due to misuse or regular wear of the product, the return will be denied.
Order Cancellation
If you need to cancel your order for any reason, please contact us immediately.  If the order is canceled prior to shipping, you will be refunded in full.  Certain products that are manufactured to order cannot be canceled after the manufacturing process has started.